Holly's Horrorland invited us all to a Sanguinary Soiree, her blog theme for Valentine's Day. To participate, all you have to do is post something with a vampire theme. What is easier for a Goth blogger than to do a vampire theme!? And what is better than vampire fashion?
Yes, you would think it would be easy… But I have to admit, this post was fraught with difficulty for me. My first plan fell through due to a weekend filled with stomach flu. Then I realized I had already planned to use my velvet cape for yesterday's homework assignment, depriving myself of the perfect vampy piece for today. At last I decided to take inspiration from GothBarbie's recent series of Old Photos of the Day. I remembered this little gem, taken around 2000, when I had just been clubbing a couple of years. It's the first time I ever wore my first "real" corset, which of course is by Gallery Serpentine. I was headed off to attend a vampire-themed club night, and I'm pretty sure I actually was wearing fangs.
Yes, friends, these photos pre-date my photo studio setup, and my digital camera ownership. They pre-date my living in a place where I was actually allowed to paint the walls. They even pre-date my eyebrow perfecting techniques. 🙂 And I love them just the same.
And yes, those are some cassette tapes you see in the lower left. I held onto those babies for the longest time… Lest anyone think the cassette tapes don't fit into the vampire theme, rest assured! There most definitely was a copy of Bauhaus 1979-83 Volume 1 complete with Bela Lugosi's Dead in there. 🙂
What do you think of the old photos? Entertaining and more should be shared, or horrifying and please don't ever do it again?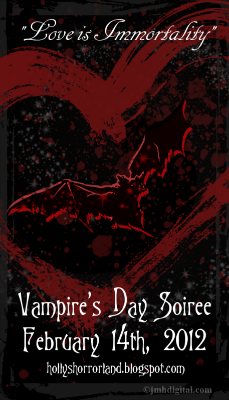 Now head over to Holly's Horrorland and enjoy the rest of the Vampire's Day Soiree!