Click photos for larger view.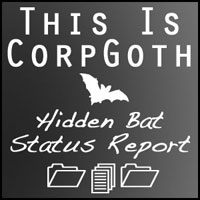 I thought I would have to miss This is CorpGoth's Monthly Status Report this time around, until I realized that it's not just Hidden Bat Day but an entire Hidden Bat Week! I'm not a fan of wearing Halloween imagery in most cases, but I do have a soft spot for bats. In addition to being cute, fuzzy little mammals, they have an incredibly interesting form that I enjoy looking at. Still, I only have two batty pieces in my wardrobe, and one is most definitely NOT so hidden. So I'm participating only one day this week with my Alchemy Gothic bat barrette.
This was the first Alchemy piece I ever purchased, at least 15 years ago. I didn't even know the brand at the time! But this guy looked so serene in the jewelry case at a local Goth shop, and he seemed well-made, so I made him mine.
I have not been exhibiting much of my Goth side at my current job, because it's a much more professional environment than my former office. I wear colors much more now and go for more classic, vintage-inspired looks. I try to wear black tights slightly less often in the heat of summer, and usually keep the edgier pieces at home. But I still opt for monochromatic outfits fairly regularly (combinations of black, white and grey seem to elicit far fewer comments than solid black) so I thought this would be a perfect outfit to complement Mr. Bat without drawing too much attention to myself on the job.
Today's grey wool skirt is one of my current favorites. It appears to be from the 40s. A friend of mine who loves vintage shopping and who fortunately couldn't fit in this skirt passed it on to me.
Very lucky for me!! I found the satin blouse on eBay while searching for pussy-bow blouses to go with a vintage look.
The shoes are Aerosoles. I recently bought a couple of pairs because I had a brief foot issue a few months back and didn't have any practical work-appropriate shoes (I find heels very comfortable under average conditions but not so much when injured!). I've been wearing these Aerosoles all week because our trainer had us doing some crazy high-impact, high-intensity cardio at the gym Monday and my almost-40-year-old feet and ankles didn't appreciate such activity. I don't feel like myself in such low heels and without even a tiny a platform.
It's not too late to get in on the final days of This is CorpGoth's Hidden Bat Week. Go check it out!
---
All images and text © Sophistique Noir Gothic Fashion Blog. Do not use any photos or text from this blog without providing a credit to me and a link back to the original post.
18 Comments